We're Not part of the Solution -- We're part of the Problem!!
We're always trying to get things in order so please bear with us... Any notes, Comments - Inquiries or Cashier's Checks please forward to: Good ol' Joshua_Quagmire
•
April 2014
So, here we are, it's April First today... That's April Fool's - and as tradition demands, we must play some unexpected trick on all of you checking in... So here it is: The Calendar is actually on time this month!!
Thanx to Xpert Bunny Colors by my pal Sean - Our theme this month seems to be an Easter Bunny Line-Up... Why? Why Not??? When you hit April an' you've got a Bunny character, then you gotta do Easter, right? (Except those odd years when it comes in March - Darn that Lunar calendar!) So Kelly an' Bunz an' some other Schlub seem to have been hauled in for distributing Eggs without a license and now they're in a Police line-up... Can you pick out the real Easter Bunny? If you can, write it on a piece of paper, seal it in an envelope, remember to add proper postage... and then, LOSE IT! Don't send it to me - I already know who the Easter Bunny is!!
On the flip side, the next Bunz & Katz page is a li'l late... mostly as I got sidetracked onto a rather pointless project that, I dunno if it'll ever see print (or some reasonable facsimile)... But hey, I'm back to work on B&K now, (April Fooz!) and they should be arriving at the Hot Dawg stand any page now... Oooo, doesn't that sound exciting? JQ
•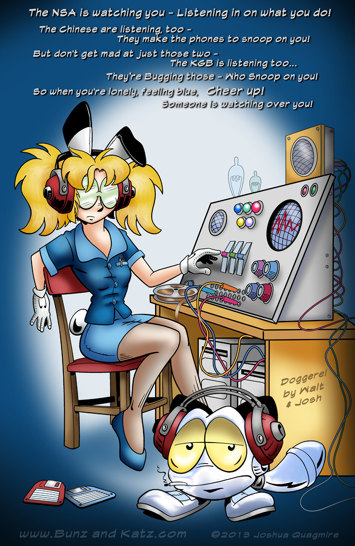 •
•
•
•
•
•
•
•
•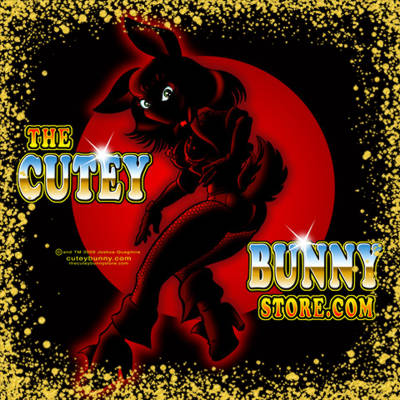 Yes, that's right - another Shameless Plug: The Cutey Zazzle store is still cookin' - this month has new designs for your perusal... Now we've got Beer steins and Coffee mugs imprinted with the Bunny's image... and also T-Shirts, posters, buttons, cards, neckties, mouse pads and skateboards, all with the full-color images of Kelly, Vicky, Bronco Bunny, Li'l Blondie Beaver, even the Battle Maids pictured here, a Bedroom Angel and Mermaid Jazz too... All at the new Cutey Bunny Store! So Go have a look -
•••
QT Calendars are Easy to use with Mac OS8x or Win95/NT,.. older Mac systems need a display utility like ZMacs-BackSplash... Cutey & Cutie Bunnies and associated characters are Copyright and TM 1998 Joshua Quagmire These Calendar Pix are free for personal use but not for reposting or any form of resale..!