We're Not part of the Solution -- We're part of the Problem!!
We're always trying to get things in order so please bear with us... Any notes, Comments - Inquiries or Cashier's Checks please forward to: Good ol' Joshua_Quagmire
•
July 2020

Hooray for the Glorious Fourth, when we commemorate our nation's revolt against the absolute power of the British King, and the establishment of a Democracy, in which all men had a voice in their government... Well, some men anyway.... To our Founding Fathers, "men" meant only the Right People... males only, certainly not women... and also not slaves, Natives, indentured servants, the infirm, the indigent or the "non-landed" – which I suppose meant that all of us apartment renters wouldn't get a vote either...
Well, anyhow, within those limits it was a democracy... And over time, as political parties formed, gradually us mere commoners were also allowed a vote... within limits set by those parties, of course... Although it took a Civil War that killed hundreds of thousands to finally establish that Blacks were more than 3/5 ths of a "man"... and it actually wasn't until 1920 that women were finally promoted to "man"-hood, so far as the Founding Fathers' criteria went... And it took another long, bloody war, in Vietnam this time, before our government could be persuaded that "If they're old enough to draft, they're old enough to vote..."
So, why is it all going south? Apparently, we've got another "King" now, (Mostly just a royal pain in the ass!) and his servile retainers are once again doing everything they can to limit this "voting" nonsense to the Right People only... if you're not one of the Right People, and you don't live in a modern, vote-by-mail state, but you don't wish to risk a ghastly plague death from going out and standing in a long line for hours on end at some remote and strictly limited polling station, then you're outa luck! the US Postal Service, invented by good old Ben Franklin, apparently can't be trusted to deliver your ballot anymore... but just in case, they seem to be willing to let the USPS go bankrupt to avoid millions and millions and millions of "voter frauds..." (Yeah, I know... frauds... sweet bit of irony there)....
So, anyway, Happy Fourth... Stay safe and sane... and to paraphrase good ol' Ben Franklin, come Election Day remember, "We've got a Democracy... if we can keep it!" JQ...
•
•
Should you like to visit either of our Tumblr or FaceBook pages, just click on a link to take you to a Magical Bunny Wonderland of Mediocrity...
•
•
•
•
It seems my pal Sean has come up with this cute li'l paper doll sort of model Paper Toy that you can put together... all you need is a Printer and some Elmer's Glue and a bit of patience, an' before you know it, there she is!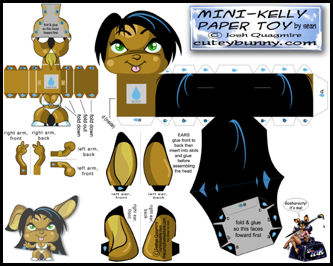 Click on the Pix to download a Printable Version...
A few notes from Sean on printing and such:
These li'l guys really should be printed on card stock. If you use regular paper the glue tends to wrinkle them up a bit, no matter how sparingly you use it...
For cutting, a hobby knife would be best - or tiny li'l nail scissors... Jus' plain ol' Elmer's glue will do for stickin' these together...
It takes maybe about an hour to cut and glue her together... perhaps a bit longer if you have to wait for the glue to set on some parts before proceeding...
So there you have it. Just download the high - resolution Jpeg (300 dpi), which is why it's a li'l large on file size, but will print sharper... then get to work - an' you may have your very own Bunny in time for Valentine's Day!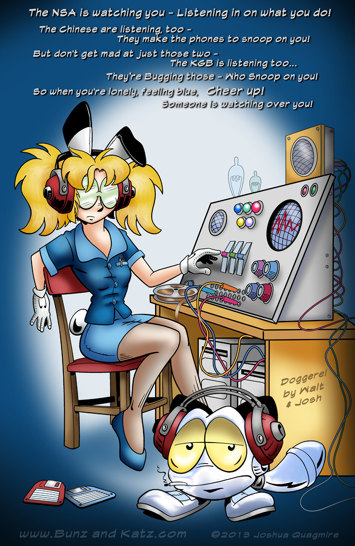 •
•
•
•
•
•
•
•
•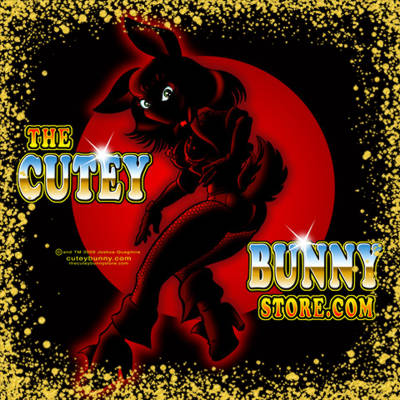 Yes, that's right - another Shameless Plug: The Cutey Zazzle store is still cookin' - this month has new designs for your perusal... Now we've got Beer steins and Coffee mugs imprinted with the Bunny's image... and also T-Shirts, posters, buttons, cards, neckties, mouse pads and skateboards, all with the full-color images of Kelly, Vicky, Bronco Bunny, Li'l Blondie Beaver, All at the new Cutey Bunny Store! So Go have a look -
•••
QT Calendars are Easy to use with Mac OS8x or Win95/NT,.. older Mac systems need a display utility like ZMacs-BackSplash... Cutey & Cutie Bunnies and associated characters are Copyright and TM 1998 Joshua Quagmire These Calendar Pix are free for personal use but not for reposting or any form of resale..!