We're Not part of the Solution -- We're part of the Problem!!
We're always trying to get things in order so please bear with us... Any notes, Comments - Inquiries or Cashier's Checks please forward to: Good ol' Joshua_Quagmire
•
October 2017
•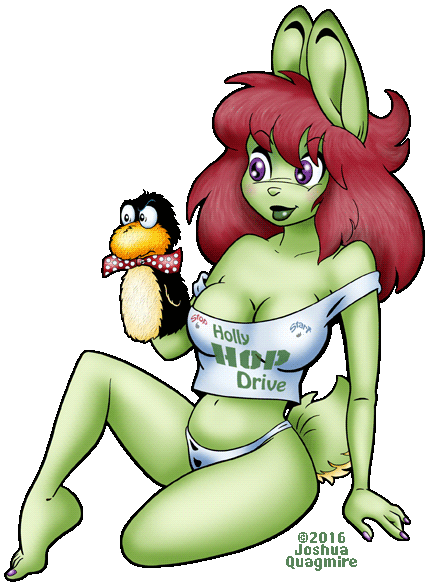 I must have missed something - So - how does bending down on one knee before a football game equate to disrespect for the flag??? I don't get it - Wasn't this supposed to be about how "Black Lives Matter"?? Let's get some perspective here, people - Speaking as an old decrepit ex-Marine, it seems to myself that the guy most concerned with tweeting and fuming over this so called "disrespect" never did jack-shit himself to defend the flag! Think about it...
•
Meanwhile: our calendar this month sort'a - kind'a celebrates the lowbrow layabout crew of the Red Dwarf returning to TV for their 12th series - way to go guys! The series generally features great acting and ingenious scripts filled with some really fun ideas...
If you've never watched the show, it's a sort of a wicked Scifi adventure spoof - the Red Dwarf is the name of the huge JMC-Jupiter Mining Corp space ship, while the crew consists of Dave Lister, chicken soup machine repairman and the last man left alive; Arnold Judas Rimmer, a disagreeable hologram of one of the dead crew; Cat: an evolved felis sapiens; and Kryten, a lavatory cleaning robot...
And so it seems that Io & Callisto, those two green alien bunnies, are getting into the fun, while waiting for the first broadcast on October 12, with a mail–order Ace Rimmer cybernetic boy-toy kit - Some Assembly Required... Erm - It may be a while before they get around to the celebrating part - Good luck, girls...
Additional note: Ace Rimmer is an alternate – universe, heroic, charismatic version of Arnold Rimmer, who is anything but heroic or likable... (which is why he's such a great character)... Where Io & Callisto found this kit version of Ace is anyone's guess, although it is probably a improvident move to order anything from Sirius Cybernetics...
and so - May the Smeg be with you! JQ..
•
•
Speaking of Wild and Weird Movie Genres – meet the "Bunny with too many names" – as Bunz & Katz have their own Facebook page now – just click on this text to link to it!
•
Yes! Kelly has her own Facebook page!! Check in and see what she's up to today - Okay?? JQ
•
•
It seems my pal Sean has come up with this cute li'l paper doll sort of model Paper Toy that you can put together... all you need is a Printer and some Elmer's Glue and a bit of patience, an' before you know it, there she is!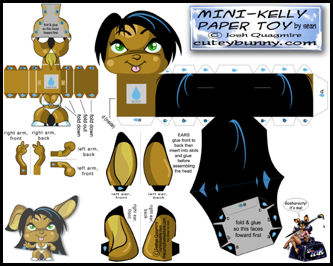 Click on the Pix to download a Printable Version...
A few notes from Sean on printing and such:
These li'l guys really should be printed on card stock. If you use regular paper the glue tends to wrinkle them up a bit, no matter how sparingly you use it...
For cutting, a hobby knife would be best - or tiny li'l nail scissors... Jus' plain ol' Elmer's glue will do for stickin' these together...
It takes maybe about an hour to cut and glue her together... perhaps a bit longer if you have to wait for the glue to set on some parts before proceeding...
So there you have it. Just download the high - resolution Jpeg (300 dpi), which is why it's a li'l large on file size, but will print sharper... then get to work - an' you may have your very own Bunny in time for Valentine's Day!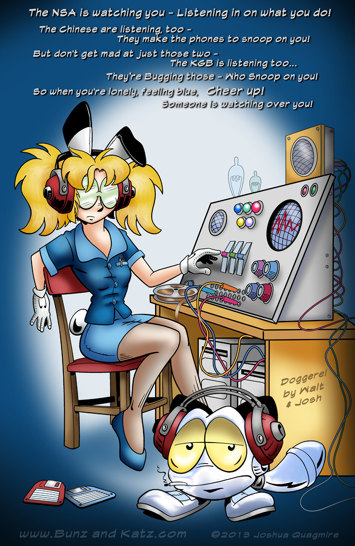 •
•
•
•
•
•
•
•
•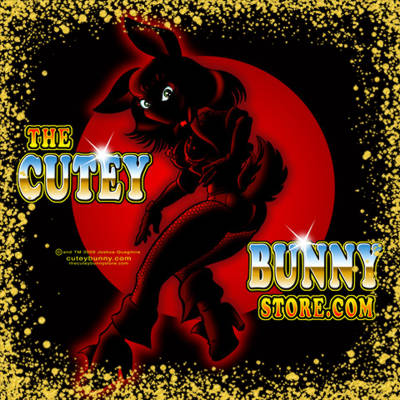 Yes, that's right - another Shameless Plug: The Cutey Zazzle store is still cookin' - this month has new designs for your perusal... Now we've got Beer steins and Coffee mugs imprinted with the Bunny's image... and also T-Shirts, posters, buttons, cards, neckties, mouse pads and skateboards, all with the full-color images of Kelly, Vicky, Bronco Bunny, Li'l Blondie Beaver, All at the new Cutey Bunny Store! So Go have a look -
•••
QT Calendars are Easy to use with Mac OS8x or Win95/NT,.. older Mac systems need a display utility like ZMacs-BackSplash... Cutey & Cutie Bunnies and associated characters are Copyright and TM 1998 Joshua Quagmire These Calendar Pix are free for personal use but not for reposting or any form of resale..!