We're Not part of the Solution -- We're part of the Problem!!
We're always trying to get things in order so please bear with us... Any notes, Comments - Inquiries or Cashier's Checks please forward to: Good ol' Joshua_Quagmire
•
January 2021

Our January desktop calendar might look somewhat familiar... But before you complain, please recall, as someone moderately wise (or at least glib) once said, "You get what you pay for..." And so, my friends, you just got your money's worth... (While for anyone who does NOT find the calendar pix familiar, click HERE for the whole sordid story)...
And now, a dissertation on prehistory histrionics written by a friend: "Well, so now we know what killed off the Dinosaurs... it wasn't the Chicxulub asteroid strike, wasn't climate change, wasn't even the Murder Hornet... it was simple Food Poisoning... Yep, in those distant days, seems there was an early, primitive, defective proto-humanoid called Rumpesius grossus imbecilus... its primary survival instinct was Selfishness... And, obviously, since the only way any species of relatively weak hominids can survive is by Cooperation and Sharing Resources, poor old selfish Rumpesius was doomed from the start... Unfortunately, it did a lot of damage before it finally went extinct, as witness the demise of the Dinosaurs... Truly, You Are What You Eat... or, if you are wiling to Swallow Anything for momentary gratification, don't complain if it comes back to bite you in the end!"
Though perhaps some may think that our Jan. calendar is, as they say, "Counting your Chickens- etc." As I'm certain that Chump is still cooking up seditious schemes to destroy our pesky Democracy in his tiny, twisted mind - still, I doubt that much will come of them, aside from his collecting more millions from his True Believers for his *Ahem* "Election Defense Fund" which goes into his own pockets..
Still, I gotta admit that I am curious to learn what it is in his tax forms that Trump has been so desperate to hide? Also, I'd like to peruse an unredacted version of the Mueller report, or the plethora of items that Trump & Barr have unconstitutionally blocked subpoenas for... wouldn't you?? Well, In 20 days, give or take a few, we might begin to learn the answers to some of these questions... No matter what your political preference, every American should be for learning the truth of these matters – after all, if Trump is as pure and innocent as he claims, the Truth can't hurt him! (Or conversely, if he is what he has acted like all his life, then the Truth could make him shrivel up and melt like a salted slug!) JQ...
•
•
Should you like to visit either of our Tumblr or FaceBook pages, just click on a link to take you to a Magical Bunny Wonderland of Mediocrity...
•
•
•
•
It seems my pal Sean has come up with this cute li'l paper doll sort of model Paper Toy that you can put together... all you need is a Printer and some Elmer's Glue and a bit of patience, an' before you know it, there she is!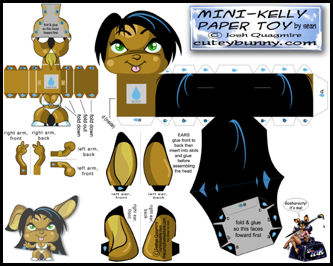 Click on the Pix to download a Printable Version...
A few notes from Sean on printing and such:
These li'l guys really should be printed on card stock. If you use regular paper the glue tends to wrinkle them up a bit, no matter how sparingly you use it...
For cutting, a hobby knife would be best - or tiny li'l nail scissors... Jus' plain ol' Elmer's glue will do for stickin' these together...
It takes maybe about an hour to cut and glue her together... perhaps a bit longer if you have to wait for the glue to set on some parts before proceeding...
So there you have it. Just download the high - resolution Jpeg (300 dpi), which is why it's a li'l large on file size, but will print sharper... then get to work - an' you may have your very own Bunny in time for Valentine's Day!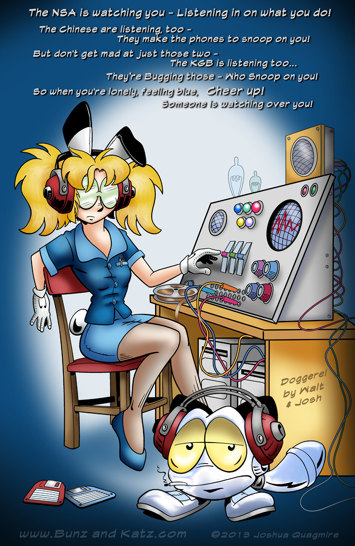 •
•
•
•
•
•
•
•
•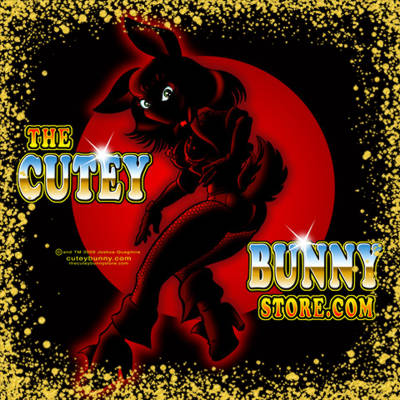 Yes, that's right - another Shameless Plug: The Cutey Zazzle store is still cookin' - this month has new designs for your perusal... Now we've got Beer steins and Coffee mugs imprinted with the Bunny's image... and also T-Shirts, posters, buttons, cards, neckties, mouse pads and skateboards, all with the full-color images of Kelly, Vicky, Bronco Bunny, Li'l Blondie Beaver, All at the new Cutey Bunny Store! So Go have a look -
•••
QT Calendars are Easy to use with Mac OS8x or Win95/NT,.. older Mac systems need a display utility like ZMacs-BackSplash... Cutey & Cutie Bunnies and associated characters are Copyright and TM 1998 Joshua Quagmire These Calendar Pix are free for personal use but not for reposting or any form of resale..!