Help Santa's Helpers to destroy the World - Please give Generously...
Well... I guess there's no gettin' around it - the Calendar is way late this year... (It's becoming sort of a Xmas tradition) An' Y'know, being posted closer to that special day, it's maybe more like an' actual Xmas Present... Anyone buying that?
An' hey, it's a calendar that you can sing along with - that is if you recall Jerry Leiber and Mike Stoller's "Jailhouse Rock"... Thanx guys! (For the rest of the lyrics, you'll need to check out our next B&K page) For those of you wondering about the logic of a Xmas in Jail Calendar, then you need to be reading Bunz and Katz, as that's where our wayward Alien Invaders are spending their Xmas this year...
Speaking of which, this Xmas day - let's all dust off the ol,' VCR, jam in a tape and we can all watch Elvis in "Jailhouse Rock" in Living Black an' White... And should any of you last minute shoppers still be tryin' to find that perfect present, might I recommend a Cutey TShirt or Coffee Mug, available in our li'l online store... It's the sort of present that says: "I don't really care"...
And with that seasonal shopping thought, I think I'd best be gettin' back to work here... JQ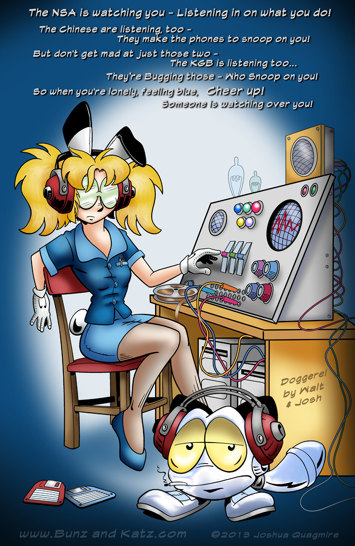 •
•