We're Not part of the Solution -- We're part of the Problem!!
We're always trying to get things in order so please bear with us... Any notes, Comments - Inquiries or Cashier's Checks please forward to: Good ol' Joshua_Quagmire
•
March 2020

So, um... the logic (if any) for this month's calendar is mostly that I had the artwork on hand from an old "Bunnies at War" comix cover that I could repurpose for the calendar layout... However, I should also note that Rommel's Afrika Korps did launch their first offensive in Libya during March of 1941... They would go on to push the British forces back into Egypt (with the exception of the garrison at Tobruk) and they would hold that ground until December of '41, when, during an incredibly messy battle known as "Operation Crusader," the New Zealand 2nd Division would relieve Tobruk, breaking Rommel's siege, while the rest of the Afrika Korps was driven back towards El Agheila... Once equipped with replacement Mark III and IV Panzers, Rommel would be back, eventually pushing the 8th army as far into Egypt as El-Alamein, which some months later would become Rommel's "Waterloo"...
Disclaimers as to the Calendar art: No fighting reached as far east as the Pyramids (the one here is Sneferu's 4th dynasty "Bent Pyramid," which immediately preceded the "Great Pyramid" of Khufu)... Nor did the lend-lease M3 Grant tanks make it to North Africa in '41... (With their 75mm sponson guns, they were a nasty surprise during the Battle of Gazala in May 1942! (Most of Rommel's tanks were Panzer Mk IIIs that had 50mm guns... He did have a smattering of Mk IVs with either a short barrel 75mm gun with no armor piercing capability, or a long barrel 75 which did have armor piercing ammo – while British tanks of the time had only 2 Pounder (40mm) guns which were largely ineffectual against the front armor of the Panzers))... I should also note that tanks did not operate on sand... the Libyan desert was hard-pan clay, often as hard as concrete... And finally, as far as I've been able to determine, No Bunnies were involved in the fighting at any time – though the Afrika Korps did run afoul of some rather peeved 7th Armored Desert Rats...
If you wish to learn more about "Bunnies at War" comix, Click Here...
Or: "The Double Trouble? Let me tell you a story..."
•
•
Should you like to visit either of our Tumblr or FaceBook pages, just click on a link to take you to a Magical Bunny Wonderland of Mediocrity...
•
•
•
•
It seems my pal Sean has come up with this cute li'l paper doll sort of model Paper Toy that you can put together... all you need is a Printer and some Elmer's Glue and a bit of patience, an' before you know it, there she is!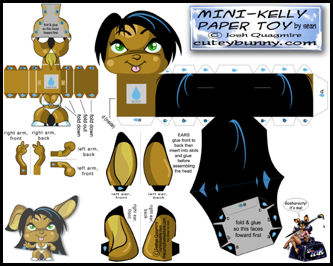 Click on the Pix to download a Printable Version...
A few notes from Sean on printing and such:
These li'l guys really should be printed on card stock. If you use regular paper the glue tends to wrinkle them up a bit, no matter how sparingly you use it...
For cutting, a hobby knife would be best - or tiny li'l nail scissors... Jus' plain ol' Elmer's glue will do for stickin' these together...
It takes maybe about an hour to cut and glue her together... perhaps a bit longer if you have to wait for the glue to set on some parts before proceeding...
So there you have it. Just download the high - resolution Jpeg (300 dpi), which is why it's a li'l large on file size, but will print sharper... then get to work - an' you may have your very own Bunny in time for Valentine's Day!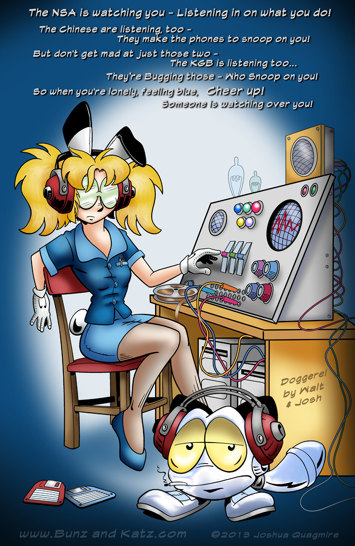 •
•
•
•
•
•
•
•
•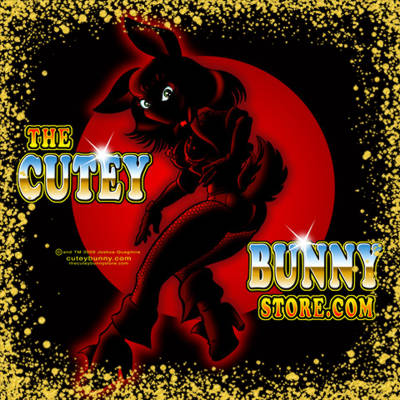 Yes, that's right - another Shameless Plug: The Cutey Zazzle store is still cookin' - this month has new designs for your perusal... Now we've got Beer steins and Coffee mugs imprinted with the Bunny's image... and also T-Shirts, posters, buttons, cards, neckties, mouse pads and skateboards, all with the full-color images of Kelly, Vicky, Bronco Bunny, Li'l Blondie Beaver, All at the new Cutey Bunny Store! So Go have a look -
•••
QT Calendars are Easy to use with Mac OS8x or Win95/NT,.. older Mac systems need a display utility like ZMacs-BackSplash... Cutey & Cutie Bunnies and associated characters are Copyright and TM 1998 Joshua Quagmire These Calendar Pix are free for personal use but not for reposting or any form of resale..!