We're Not part of the Solution -- We're part of the Problem!!
We're always trying to get things in order so please bear with us... Any notes, Comments - Inquiries or Cashier's Checks please forward to: Good ol' Joshua_Quagmire
•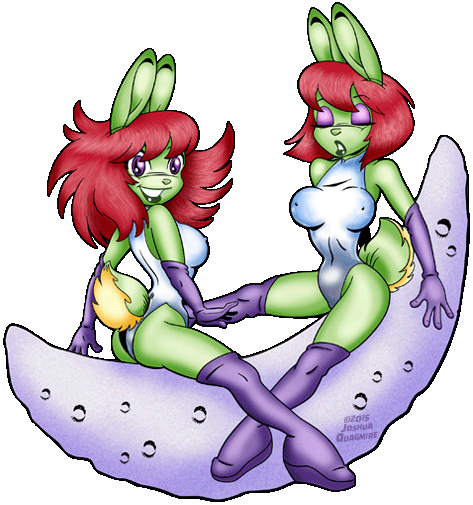 February 2019
Space Newz Today: It would seem that the Chinese Rover CHANG'E4 has been rambling about on the far side of the Moon for the past month and a bit... Though isn't it just a tad odd that we haven't heard that much back from it? However, perhaps this recently leaked candid photo might possibly explain why - Up till now, the back side of the Moon has never been seen close up by the eye of man ... or, um, Rover... but now it seems that Chang'e4 is about to get an eyeful!
Yes, Believe it or Nutz: We asked our "Roving" Reporters, Io & Callisto, to cover the event - but perhaps things have gotten just a bit out of hand ... or claw... Or possibly it's what the claw may be about to snap on, as those two playful Green Space Bunnies have apparently borrowed the CHANG'E4 rover for a bit of fun and games...
The Chinese Space agency was unavailable for comment...
In a Tweet, Prez Chump blamed Nancy Pelosi for not funding a wall around the Moon... "If we had built my Moon wall, we'd have kept those Chinese out - Also the Klingons!" He added...
While the Rooskie Splatnik Bureau posted an official mimeographed statement, thumbtacked onto the fence post outside of their office, which unfortunately was piddled on by a small dog before it could be read...
But kidding aside, I think what the Chinese have done is GREAT! They're exploring where no one has gone before and in doing so, will hopefully add to our knowledge base of the Moon... If you may recall, back around 65 million years ago, the Dinosaurs had no space program or any other means to alter their fate - all it took was one big rock - the Dinosaurs were gone and the Earth was changed forever! Until we, as a species, learn how to build colonies on the Moon or Mars, or beyond, then no matter what we may do here on Earth, no matter what wonders of art or intellect we may create - We are all, really, just waiting for the Next Big Rock!
Currently in our present situation of international politics and available resources, the idea of colonizing or terraforming is just a bit beyond our capabilities... we as a species evolved to fit this planet, and it will be difficult to adapt to living elsewhere than Earth... Not to mention, even if we do eventually build Moon or Martian colonies, the vast majority of us will be staying right here on this old dirt ball! As such, if we know what's good for us, we had better take care of it! We seriously must stop letting fools, greedballs and warmongers control our societies, stop shitting in our own sandbox, stop wasting our resources, destroying our environment and we have to stop multiplying like hamsters! Or we will literally be following in the footsteps of the Dinosaurs, as we march lockstep with them into oblivion! JQ...
•
Should you like to visit either of our Tumblr or FaceBook pages, just click on a link to take you to a Magical Bunny Wonderland of Mediocrity...
•
•
•
•
It seems my pal Sean has come up with this cute li'l paper doll sort of model Paper Toy that you can put together... all you need is a Printer and some Elmer's Glue and a bit of patience, an' before you know it, there she is!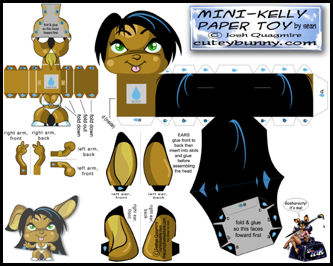 Click on the Pix to download a Printable Version...
A few notes from Sean on printing and such:
These li'l guys really should be printed on card stock. If you use regular paper the glue tends to wrinkle them up a bit, no matter how sparingly you use it...
For cutting, a hobby knife would be best - or tiny li'l nail scissors... Jus' plain ol' Elmer's glue will do for stickin' these together...
It takes maybe about an hour to cut and glue her together... perhaps a bit longer if you have to wait for the glue to set on some parts before proceeding...
So there you have it. Just download the high - resolution Jpeg (300 dpi), which is why it's a li'l large on file size, but will print sharper... then get to work - an' you may have your very own Bunny in time for Valentine's Day!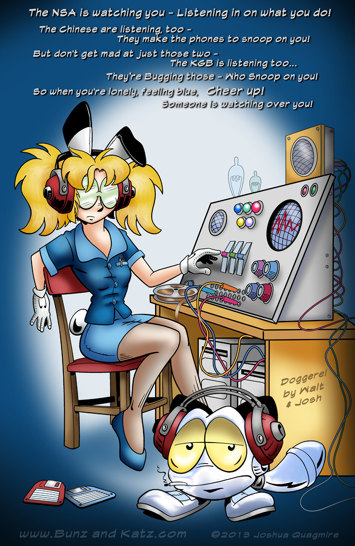 •
•
•
•
•
•
•
•
•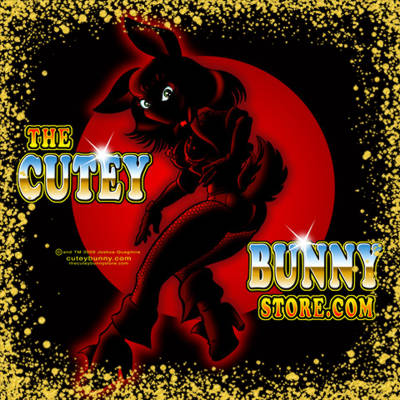 Yes, that's right - another Shameless Plug: The Cutey Zazzle store is still cookin' - this month has new designs for your perusal... Now we've got Beer steins and Coffee mugs imprinted with the Bunny's image... and also T-Shirts, posters, buttons, cards, neckties, mouse pads and skateboards, all with the full-color images of Kelly, Vicky, Bronco Bunny, Li'l Blondie Beaver, All at the new Cutey Bunny Store! So Go have a look -
•••
QT Calendars are Easy to use with Mac OS8x or Win95/NT,.. older Mac systems need a display utility like ZMacs-BackSplash... Cutey & Cutie Bunnies and associated characters are Copyright and TM 1998 Joshua Quagmire These Calendar Pix are free for personal use but not for reposting or any form of resale..!